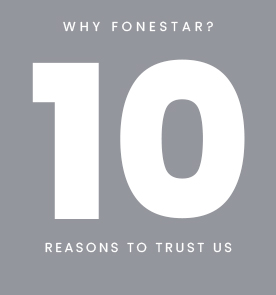 Quality policy
FONESTAR's Management and employees carry out their activities guided by the same business strategy, ensuring strict compliance with applicable legislation and our company's guidelines. FONESTAR's quality is based on and defined by the following principles:
OUR MISSION
Our business: Evolving With You, identifying needs and acquiring knowledge through efficiency, flexibility and speed.
OUR VISION
To be a benchmark in the sound and public address sector, offering added value in all our products, maintaining constant and sustained growth.
OUR VALUES
Customer service vocation: To serve our customers by working continuously to achieve the highest levels of quality in our products and services.
Differentiation: To focus on technological renovation and quality as differentiating factors.
Diversification: Of our portfolio of products and services to ensure comprehensive customer service and high growth potential.
Responsibility: To our customers and employees.
Ethical conduct: To base all our actions on professionalism, integrity and respect for people.
This Policy is outlined in our business strategy and serves as a reference framework for the establishment and review of our objectives, guiding our commitment to continuous improvement. Thus stated, it is signed by the management of the company.
Santander (Cantabria), March 1st 2021.

Fdo.: FONESTAR CEO

We want to solve all your challenges and problems.
We assist you in all phases of your project. From the choice of the public address solution to commissioning and support. In addition, if you need it, we will train you free of charge in the operation of IP/network technology.
We offer you a comprehensive support service for your public address projects.