We are your best ally
Specialisation and the capacity to provide added value in each sales process are the fundamental pillars on which our work processes revolve.
Since its inception, Fonestar has always had a strong commitment to both advice and service our customers. More than 40 people with a high level of training and technical knowledge in the public address field are at your disposal to advise you and provide solutions to your problems and needs.
We want to help you meet your company's challenges. And we know how to do it:
Wherever your company is located, there is a member of the Fonestar sales team available to help you.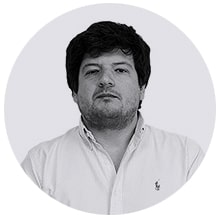 Rui Dos Santos
SALES DIRECTOR

We want to solve all your challenges and problems.
We assist you in all phases of your project. From the choice of the public address solution to commissioning and support. In addition, if you need it, we will train you free of charge in the operation of IP/network technology.
We offer you a comprehensive support service for your public address projects.