YOU are our priority. We are at your service.
Our "Design Thinking" strategy puts the target user at the centre of the project.
First of all, we empathise with the needs of the users. To do this, we study the market in depth, evaluate the latest technological trends and carry out focus groups with our clients to obtain as much information as possible before tackling the project. In this way, we make you part of the project from the beginning and, consequently, the final product is perfectly adapted to your needs and those of your clients.
After this first phase of information gathering, we clearly define the product requirements and check that they correspond to the customer's needs before proceeding.
We then begin to design the product with the highest standards of aesthetics, construction quality and usability. We have defined values that characterise the "designed by FONESTAR" product:
Simple:

We avoid the unnecessary and resolve the design in a simple way both in the image and in the use of the product.

Elegant:

The shape, colour and texture of our products blend well into any context, and the approach is genuine, exclusive and easy to recognise.

Reliable:

We design to last, with a high level of demand that allows us to earn your trust in our product.
Once we have a design that meets the established requirements and standards, we move on to building prototypes that allow us to evaluate the design and performance. It is common that during the prototyping process we discover new points in which to improve and optimise. In such cases, we redesign and make the necessary adjustments to build a new prototype. This prototyping and optimisation process is carried out in an iterative way as many times as necessary until a satisfactory result is achieved.
When the functional prototype reaches a level of development close to the final product, we test it. Testing takes place in two steps:
Internally:

Based on the extensive experience of our specialised team of engineers.

Externally:

We invite some of our customers to give us feedback, so that we can make the necessary adjustments to achieve the optimal product for their needs.
As a result of our design process, we can start series production with the certainty of having an exclusive product at the forefront of the market. As mentioned before, it is extremely important for FONESTAR to have a close collaboration with you during the process and we are sure that it is the basis of success to consolidate our position in the market as "leaders in communication technologies".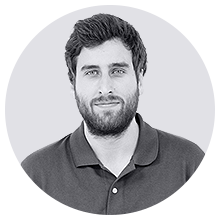 Pablo Calvin
HEAD OF PRODUCT DESIGN

We want to solve all your challenges and problems.
We assist you in all phases of your project. From the choice of the public address solution to commissioning and support. In addition, if you need it, we will train you free of charge in the operation of IP/network technology.
We offer you a comprehensive support service for your public address projects.